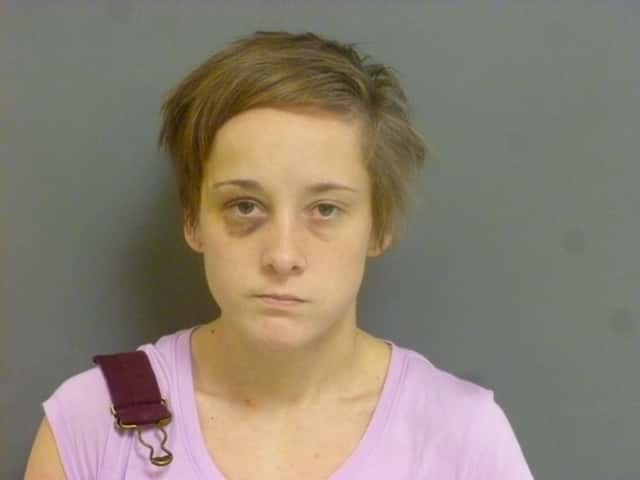 PARKE COUNTY, Ind –  Parke County Deputies arrested a Vigo County woman Tuesday afternoon on several warrants.
Police say that they received a tip and found 27-year-old Ashley E. Sharp hiding at 5001 S. Slaven Rd.
Sharp was wanted on warrants in Vigo County and Terre Haute for Auto Theft and Conversion and Parke County Warrants for Escape.
She has fled from police on several occasions in the past.
This time she was found hiding in the attic and refused to cooperate and told police that she had a gun.
Police used their Tasers, but she ripped the probes out and tried to escape by kicking holes in the ceiling and kicking out the siding of the house. She eventually fell through the ceiling and was arrested.
She was taken to the hospital in Clinton where she swallowed something that could have been meth that she pulled from her bra.
She was kept overnight in the hospital for observation.
The homeowner, 48-year-old Gary J. Bland and 35-year-old Chad V. Glaze of Terre Haute who was also in the house were arrested on several charges including charges of Assisting a Criminal after lying to police about Sharp's presence in the house.
A search of the home turned up syringes, marijuana, other drug paraphernalia, firearms and a stolen vehicle from Vigo County.