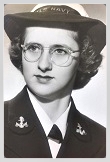 Emily K. Hanna, 97, of Perrysville, passed away at 1:45 a.m. EDT Thursday, April 4, 2019 at The Waters of Covington in Covington, Indiana.
She was born November 10, 1921 in Bloomington, Indiana, the youngest daughter of the late Joseph Edward and Maria (Downing) King, Sr. She married Harold Hanna on August 12, 1972 in Danville, Illinois. He preceded her in death on September 12, 2003.
Survivors include three grandchildren: Doug and Larry Hughes both of Danville, Illinois, and Tracy (Jon) Foley of Oakwood, Illinois; five great- grandchildren: Austin, Zachary and Jacob Milliron, and Ryan and Emily Hughes; son-in-law: Wilbur "Sonny" Winkler of Catlin, Illinois; brother-in-law: Gordon Cheesman of Tucson, Arizona and several nieces and nephews.
Emily was preceded in death by her daughter, Maria Hughes Winkler; son-in-law: John Hughes; two great-grandchildren; Kyle Hughes and Hannah Milliron; two brothers: William King and Joseph King, Jr.; two sisters: Margaret Dailey and Cornelia Cheesman; granddaughter-in-law: Julie Hughes; two sister-in-laws: Causby King and Jane King; one-brother-inlaw: Chester Dailey and two great nieces.
Emily was co-owner of Covington Dry Cleaners for 10 years, retiring March 1987. She was a 1942 graduate of Danville High School. Emily was a veteran of W.W. II, serving three years in the W.A.V.E.S. and one year in the Army Reserve. Her memberships included the Central Christian Church in Danville, Illinois; Benson Chapel United Methodist Church west of Covington, Indiana; Lifetime member of the Beta Sigma Phi of Danville, Illinois; Perrysville Chapter #302 O.E.S. and the Perrysville American Legion Post #350. Emily enjoyed reading, cross stitching and spending time with her family and friends.
Graveside service and Military Honors will be held at 3 p.m. EDT Sunday, April 7, 2019 at Lower Mound Cemetery north of Perrysville, Indiana; Officiating: Pastor Ramona Trover. There will be no visitation. Contributions may be made to the Perrysville American Legion, 197 East Adams Street, Perrysville, Indiana 47974. DeVerter Funeral Home in Cayuga, Indiana is honored to be serving the family. Condolences: www.deverterfuneralhome.com.