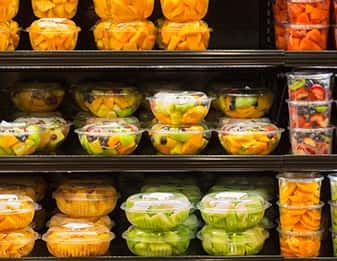 INDIANAPOLIS  –  A fruit recall has been issued by an Indianapolis-based company for melon products sold in 16 states after being linked to a salmonella outbreak.
Authorities say 93 people have been sickened, 23 of whom were hospitalized. No deaths have been reported.
The U.S. Food and Drug Administration said Friday that the recall includes cut watermelon, honeydew and cantaloupe produced by Caito Foods LLC. The fruit has been sold under various brands or labels at Kroger, Walmart, Trader Joe's, Target and Whole Foods.
The affected states are Illinois, Indiana, Iowa, Kansas, Kentucky, Michigan, Minnesota, Missouri, Nebraska, New York, North Carolina, Ohio, Pennsylvania, Tennessee, West Virginia and Wisconsin.
Health officials advise consumers to check packaging to determine if the melon was distributed by Caito Foods, and, if so, not to eat it. They advise stores to pull the products from shelves.
Salmonella Carrau is described as rare. Symptoms include diarrhea, fever and abdominal cramps.
These products were sold at the following retailers:
Kroger under the Renaissance Food Group label
Kroger under Boar's Head Private Label
Target under the Garden Highway Label
Trader Joes under the Trader Joes label
Walmart under a Freshness Guaranteed label
Amazon/Whole Foods under the Whole Foods Market Label
Retailers and restaurants should also not serve the recalled pre-cut melon products and should throw the product out.
These products were distributed by:
Caito Foods Distribution with the label "Distributed by Caito Foods"
Gordon Food Service with the label "Distributed by Caito Foods"
SpartanNash Distribution with the label "Open Acres"
Click here to go to the FDA site
| Customer | Description | UPC | Pack Weight | Label Description/Brand | Plant Identifier Code | States Affected | Best By/Use By: |
| --- | --- | --- | --- | --- | --- | --- | --- |
| Caito Foods Distribution | CANTALOUPE SPEARS | 81851301294 | 16 oz. | Clear Generic Label Distributed by Caito Foods | SN01 | IL, IN, KY, MI, MO, NY, OH, PA, NC | 4/18/2019 and any date prior |
| Caito Foods Distribution | HONEYDEW SPEARS | 81851301300 | 16 oz. | Clear Generic Label Distributed by Caito Foods | SN01 | IL, IN, KY, MI, MO, NY, OH, PA, NC | 4/18/2019 and any date prior |
| Caito Foods Distribution | MELON MIX | 81851301331 | 10 oz. | Clear Generic Label Distributed by Caito Foods | SN01 | IL, IN, KY, MI, MO, NY, OH, PA, NC | 4/18/2019 and any date prior |
| Caito Foods Distribution | FRUIT MIX | 81851301348 | 10 oz. | Clear Generic Label Distributed by Caito Foods | SN01 | IL, IN, KY, MI, MO, NY, OH, PA, NC | 4/18/2019 and any date prior |
| Caito Foods Distribution | HONEYDEW CHUNKS | 81851301362 | 10 oz. | Clear Generic Label Distributed by Caito Foods | SN01 | IL, IN, KY, MI, MO, NY, OH, PA, NC | 4/18/2019 and any date prior |
| Caito Foods Distribution | CANTALOUPE CHUNKS | 81851301379 | 10 oz. | Clear Generic Label Distributed by Caito Foods | SN01 | IL, IN, KY, MI, MO, NY, OH, PA, NC | 4/18/2019 and any date prior |
| Caito Foods Distribution | WATERMELON CHUNKS | 81851301386 | 9.5 oz. | Clear Generic Label Distributed by Caito Foods | SN01 | IL, IN, KY, MI, MO, NY, OH, PA, NC | 4/18/2019 and any date prior |
| Caito Foods Distribution | FRUIT BURST | 81851301409 | 20 oz. | Clear Generic Label Distributed by Caito Foods | SN01 | IL, IN, KY, MI, MO, NY, OH, PA, NC | 4/18/2019 and any date prior |
| Caito Foods Distribution | FRUIT MIX | 81851301416 | 48 oz. | Clear Generic Label Distributed by Caito Foods | SN01 | IL, IN, KY, MI, MO, NY, OH, PA, NC | 4/18/2019 and any date prior |
| Caito Foods Distribution | FRUIT MIX | 81851301447 | 16 oz. | Clear Generic Label Distributed by Caito Foods | SN01 | IL, IN, KY, MI, MO, NY, OH, PA, NC | 4/18/2019 and any date prior |
| Caito Foods Distribution | FRUIT SNACK TRAY | 81851301454 | 32 oz. | Clear Generic Label Distributed by Caito Foods | SN01 | IL, IN, KY, MI, MO, NY, OH, PA, NC | 4/18/2019 and any date prior |
| Caito Foods Distribution | FRUIT PARTY PLATTER | 81851301461 | 64 oz. | Clear Generic Label Distributed by Caito Foods | SN01 | IL, IN, KY, MI, MO, NY, OH, PA, NC | 4/18/2019 and any date prior |
| Caito Foods Distribution | MELON MIX SPEARS | 81851301478 | 16 oz. | Clear Generic Label Distributed by Caito Foods | SN01 | IL, IN, KY, MI, MO, NY, OH, PA, NC | 4/18/2019 and any date prior |
| Caito Foods Distribution | FRUIT BOWL | 81851301485 | 64 oz. | Clear Generic Label Distributed by Caito Foods | SN01 | IL, IN, KY, MI, MO, NY, OH, PA, NC | 4/18/2019 and any date prior |
| Caito Foods Distribution | WATERMELON SPEAR | 81851301591 | 16 oz. | Clear Generic Label Distributed by Caito Foods | SN01 | IL, IN, KY, MI, MO, NY, OH, PA, NC | 4/18/2019 and any date prior |
| Caito Foods Distribution | CANTALOUPE CHUNKS | 81851301614 | 80 oz. | Clear Generic Label Distributed by Caito Foods | SN01 | IL, IN, KY, MI, MO, NY, OH, PA, NC | 4/18/2019 and any date prior |
| Caito Foods Distribution | HONEYDEW CHUNKS | 81851301621 | 80 oz. | Clear Generic Label Distributed by Caito Foods | SN01 | IL, IN, KY, MI, MO, NY, OH, PA, NC | 4/18/2019 and any date prior |
| Caito Foods Distribution | FRUIT MIX | 81851302079 | 80 oz. | Clear Generic Label Distributed by Caito Foods | SN01 | IL, IN, KY, MI, MO, NY, OH, PA, NC | 4/18/2019 and any date prior |
| Caito Foods Distribution | WATERMELON CHUNKS | 81851302147 | 80 oz. | Clear Generic Label Distributed by Caito Foods | SN01 | IL, IN, KY, MI, MO, NY, OH, PA, NC | 4/18/2019 and any date prior |
| Caito Foods Distribution | FRUIT BURST | 81851302215 | 10 oz. | Clear Generic Label Distributed by Caito Foods | SN01 | IL, IN, KY, MI, MO, NY, OH, PA, NC | 4/18/2019 and any date prior |
| Caito Foods Distribution | CANTALOUPE CHUNKS | 81851217441 | 6 oz. | Clear Generic Label Distributed by Caito Foods | SN01 | IL, IN, KY, MI, MO, NY, OH, PA, NC | 4/18/2019 and any date prior |
| Caito Foods Distribution | FRUIT MIX CHUNK | 81851222308 | 6 oz. | Clear Generic Label Distributed by Caito Foods | SN01 | IL, IN, KY, MI, MO, NY, OH, PA, NC | 4/18/2019 and any date prior |
| Caito Foods Distribution | WATERMELON CHUNK | 81851222360 | 6 oz. | Clear Generic Label Distributed by Caito Foods | SN01 | IL, IN, KY, MI, MO, NY, OH, PA, NC | 4/18/2019 and any date prior |
| Caito Foods Distribution | FRUIT SALAD SEASONAL | 81851223411 | 10 oz. | Clear Generic Label Distributed by Caito Foods | SN01 | IL, IN, KY, MI, MO, NY, OH, PA, NC | 4/18/2019 and any date prior |
| Caito Foods Distribution | FRUIT SALAD SEASONAL | 81851223442 | 20 oz. | Clear Generic Label Distributed by Caito Foods | SN01 | IL, IN, KY, MI, MO, NY, OH, PA, NC | 4/18/2019 and any date prior |
| Caito Foods Distribution | FRUIT SALAD SEASONAL | 81851223466 | 32 oz. | Clear Generic Label Distributed by Caito Foods | SN01 | IL, IN, KY, MI, MO, NY, OH, PA, NC | 4/18/2019 and any date prior |
| Caito Foods Distribution | FRUIT SPEAR ASSORTED | 81851272662 | 16 oz. | Clear Generic Label Distributed by Caito Foods | SN01 | IL, IN, KY, MI, MO, NY, OH, PA, NC | 4/18/2019 and any date prior |
| Caito Foods Distribution | CANTALOUPE CHUNK | 81851272716 | 6 oz. | Clear Generic Label Distributed by Caito Foods | SN01 | IL, IN, KY, MI, MO, NY, OH, PA, NC | 4/18/2019 and any date prior |
| Caito Foods Distribution | CANTALOUPE CHUNK | 81851272723 | 10 oz. | Clear Generic Label Distributed by Caito Foods | SN01 | IL, IN, KY, MI, MO, NY, OH, PA, NC | 4/18/2019 and any date prior |
| Caito Foods Distribution | FRUIT BURST | 81851272778 | 10 oz. | Clear Generic Label Distributed by Caito Foods | SN01 | IL, IN, KY, MI, MO, NY, OH, PA, NC | 4/18/2019 and any date prior |
| Caito Foods Distribution | FRUIT MIX | 81851272785 | 10 oz. | Clear Generic Label Distributed by Caito Foods | SN01 | IL, IN, KY, MI, MO, NY, OH, PA, NC | 4/18/2019 and any date prior |
| Caito Foods Distribution | MELON MIX | 81851272815 | 10 oz. | Clear Generic Label Distributed by Caito Foods | SN01 | IL, IN, KY, MI, MO, NY, OH, PA, NC | 4/18/2019 and any date prior |
| Caito Foods Distribution | MIXED FRUIT CHUNK | 81851272822 | 6 oz. | Clear Generic Label Distributed by Caito Foods | SN01 | IL, IN, KY, MI, MO, NY, OH, PA, NC | 4/18/2019 and any date prior |
| Caito Foods Distribution | SEASONAL FRUIT SALAD | 81851272914 | 10 oz. | Clear Generic Label Distributed by Caito Foods | SN01 | IL, IN, KY, MI, MO, NY, OH, PA, NC | 4/18/2019 and any date prior |
| Caito Foods Distribution | SEASONAL FRUIT SALAD | 81851272921 | 32 oz. | Clear Generic Label Distributed by Caito Foods | SN01 | IL, IN, KY, MI, MO, NY, OH, PA, NC | 4/18/2019 and any date prior |
| Caito Foods Distribution | WATERMELON SPEAR | 81851273010 | 16 oz. | Clear Generic Label Distributed by Caito Foods | SN01 | IL, IN, KY, MI, MO, NY, OH, PA, NC | 4/18/2019 and any date prior |
| Caito Foods Distribution | WATERMELON CHUNK | 81851273041 | 18 oz. | Clear Generic Label Distributed by Caito Foods | SN01 | IL, IN, KY, MI, MO, NY, OH, PA, NC | 4/18/2019 and any date prior |
| Caito Foods Distribution | WATERMELON CHUNK | 81851273058 | 6 oz. | Clear Generic Label Distributed by Caito Foods | SN01 | IL, IN, KY, MI, MO, NY, OH, PA, NC | 4/18/2019 and any date prior |
| Caito Foods Distribution | WATERMELON CHUNK | 81851273065 | 9.5 oz. | Clear Generic Label Distributed by Caito Foods | SN01 | IL, IN, KY, MI, MO, NY, OH, PA, NC | 4/18/2019 and any date prior |
| Caito Foods Distribution | WATERMELON TRAY | 81851302239 | 80 oz. | Clear Generic Label Distributed by Caito Foods | SN01 | IL, IN, KY, MI, MO, NY, OH, PA, NC | 4/19/2019 and any date prior |
| Caito Foods Distribution | WATERMELON CHUNK | 826766260317 | 18 oz. | Clear Generic Label Distributed by Caito Foods | SN01 | IL, IN, KY, MI, MO, NY, OH, PA, NC | 4/18/2019 and any date prior |
| Gordon Food Service | WATERMELON CHUNKS | 826766009800 | 5 oz. | Clear Generic Label Distributed by Caito Foods | SN01 | IN, MI, PA, WI, KY, OH | 4/18/2019 and any date prior |
| Gordon Food Service | CANTALOUPE CHUNKS | 826766009817 | 5 oz. | Clear Generic Label Distributed by Caito Foods | SN01 | IN, MI, PA, WI, KY, OH | 4/18/2019 and any date prior |
| Gordon Food Service | FRUIT MIX | 826766257676 |  4.5 oz. | Clear Generic Label Distributed by Caito Foods | SN01 | IN, MI, PA, WI, KY, OH | 4/18/2019 and any date prior |
| Gordon Food Service | WATERMELON CHUNK | 826766260041 | 10 oz. | Clear Generic Label Distributed by Caito Foods | SN01 | IN, MI, PA, WI, KY, OH | 4/18/2019 and any date prior |
| Gordon Food Service | MELON MIX | 826766009886 | 5 oz. | Clear Generic Label Distributed by Caito Foods | SN01 | IN, MI, PA, WI, KY, OH | 4/18/2019 and any date prior |
| Kroger | MELON MIX | 826766139804 | 10 oz. | Clear Generic Label Distributed by Renaissance Food Group | GHMW | IL, IN, KY, MI, OH, TN, WV | 4/14/2019 and any date prior |
| Kroger | FRUIT TRAY SM | 826766145386 | 26.75 oz. | Clear Generic Label Distributed by Renaissance Food Group | GHMW | IL, IN, KY, MI, OH, TN, WV | 4/14/2019 and any date prior |
| Kroger | HONEYDEW CHUNK | 49022558632 | 10 oz. | Clear Generic Label Distributed by Renaissance Food Group | GHMW | IL, IN, KY, MI, OH, TN, WV | 4/14/2019 and any date prior |
| Kroger | WATERMELON SPEAR | 826766139620 | 16 oz. | Clear Generic Label Distributed by Renaissance Food Group | GHMW | IL, IN, KY, MI, OH, TN, WV | 4/14/2019 and any date prior |
| Kroger | WATERMELON CHUNK | 826766139859 | 10 oz. | Clear Generic Label Distributed by Renaissance Food Group | GHMW | IL, IN, KY, MI, OH, TN, WV | 4/14/2019 and any date prior |
| Kroger | CANTALOUPE CHUNK | 826766896578 | 80 oz. | Clear Generic Label Distributed by Renaissance Food Group | GHMW | IL, IN, KY, MI, OH, TN, WV | 4/14/2019 and any date prior |
| Kroger | CANTALOUPE CHUNK | 826766140008 | 10 oz. | Clear Generic Label Distributed by Renaissance Food Group | GHMW | IL, IN, KY, MI, OH, TN, WV | 4/14/2019 and any date prior |
| Kroger | CANTALOUPE CHUNK | 826766140060 | 24 oz. | Clear Generic Label Distributed by Renaissance Food Group | GHMW | IL, IN, KY, MI, OH, TN, WV | 4/14/2019 and any date prior |
| Kroger | MELON MIX | 826766140077 | 24 oz. | Clear Generic Label Distributed by Renaissance Food Group | GHMW | IL, IN, KY, MI, OH, TN, WV | 4/14/2019 and any date prior |
| Kroger | WATERMELON CHUNK | 826766140084 | 24 oz. | Clear Generic Label Distributed by Renaissance Food Group | GHMW | IL, IN, KY, MI, OH, TN, WV | 4/14/2019 and any date prior |
| Kroger | WATERMELON CHUNK | 826766140145 | 48 oz. | Clear Generic Label Distributed by Renaissance Food Group | GHMW | IL, IN, KY, MI, OH, TN, WV | 4/14/2019 and any date prior |
| Kroger | FRUIT SNACK TRAY | 826766140152 | 40 oz. | Clear Generic Label Distributed by Renaissance Food Group | GHMW | IL, IN, KY, MI, OH, TN, WV | 4/14/2019 and any date prior |
| Kroger | FRUIT MEDLEY | 826766140176 | 10 oz. | Clear Generic Label Distributed by Renaissance Food Group | GHMW | IL, IN, KY, MI, OH, TN, WV | 4/14/2019 and any date prior |
| Kroger | FRUIT MEDLEY | 826766140244 | 24 oz. | Clear Generic Label Distributed by Renaissance Food Group | GHMW | IL, IN, KY, MI, OH, TN, WV | 4/14/2019 and any date prior |
| Kroger | FRUIT MEDLEY | 826766140305 | 48 oz. | Clear Generic Label Distributed by Renaissance Food Group | GHMW | IL, IN, KY, MI, OH, TN, WV | 4/14/2019 and any date prior |
| Kroger | WATERMELON CHUNK | 826766896011 | 80 oz. | Clear Generic Label Distributed by Renaissance Food Group | GHMW | IL, IN, KY, MI, OH, TN, WV | 4/18/2019 and any date prior |
| Kroger | WATERMELON SPEAR | 826766181704 | 64 oz. | Clear Generic Label Distributed by Renaissance Food Group | GHMW | IL, IN, KY, MI, OH, TN, WV | 4/14/2019 and any date prior |
| Kroger | MIXED SPEARS | 826766139606 | 16 oz. | Clear Generic Label Distributed by Renaissance Food Group | GHMW | IL, IN, KY, MI, OH, TN, WV | 4/14/2019 and any date prior |
| Kroger | MELON SPEAR TRIO | 826766139590 | 16 oz. | Clear Generic Label Distributed by Renaissance Food Group | GHMW | IL, IN, KY, MI, OH, TN, WV | 4/14/2019 and any date prior |
| Kroger | FRU TRAY LG | 826766185498 | 64.75 oz. | Clear Generic Label Distributed by Renaissance Food Group | GHMW | IL, IN, KY, MI, OH, TN, WV | 4/14/2019 and any date prior |
| Kroger | HONEYDEW CHUNK | 826766898947 | 80 oz. | Clear Generic Label Distributed by Renaissance Food Group | GHMW | IL, IN, KY, MI, OH, TN, WV | 4/14/2019 and any date prior |
| Kroger | FRUIT SALAD SEASONAL | 826766898985 | 80 oz. | Clear Generic Label Distributed by Renaissance Food Group | GHMW | IL, IN, KY, MI, OH, TN, WV | 4/18/2019 and any date prior |
| Kroger | SNACKER ITALIAN SALAMI | 826766951246 | 4.75 oz. | Boar's Head Private Label | GHMW | IL, IN, KY, MI, OH, TN, WV | 4/13/2019 and any date prior |
| SpartanNash Distribution | CANTALOUPE SPEAR | 884853630856 | 16 oz. | Open Acres | SN01 | MI, IN, IL | 4/18/2019 and any date prior |
| SpartanNash Distribution | FRUIT BURST | 884853630887 | 10 oz. | Open Acres | SN01 | MI, IN, IL | 4/18/2019 and any date prior |
| SpartanNash Distribution | MELON MIX | 884853630894 | 10 oz. | Open Acres | SN01 | MI, IN, IL | 4/18/2019 and any date prior |
| SpartanNash Distribution | FRUIT MIX | 884853630900 | 10 oz. | Open Acres | SN01 | MI, IN, IL | 4/18/2019 and any date prior |
| SpartanNash Distribution | HONEYDEW CHUNK | 884853630924 | 10 oz. | Open Acres | SN01 | MI, IN, IL | 4/18/2019 and any date prior |
| SpartanNash Distribution | CANTALOUPE CHUNK | 884853630931 | 10 oz. | Open Acres | SN01 | MI, IN, IL | 4/18/2019 and any date prior |
| SpartanNash Distribution | WATERMELON CHUNK | 884853630948 | 9.5 oz. | Open Acres | SN01 | MI, IN, IL | 4/18/2019 and any date prior |
| SpartanNash Distribution | FRUIT BURST | 884853630955 | 20 oz. | Open Acres | SN01 | MI, IN, IL | 4/18/2019 and any date prior |
| SpartanNash Distribution | FRUIT MIX | 884853630962 | 48 oz. | Open Acres | SN01 | MI, IN, IL | 4/18/2019 and any date prior |
| SpartanNash Distribution | MELON MIX | 884853630986 | 16 oz. | Open Acres | SN01 | MI, IN, IL | 4/18/2019 and any date prior |
| SpartanNash Distribution | FRUIT MIX | 884853630993 | 16 oz. | Open Acres | SN01 | MI, IN, IL | 4/18/2019 and any date prior |
| SpartanNash Distribution | FRUIT TRAY | 884853631006 | 32 oz. | Open Acres | SN01 | MI, IN, IL | 4/18/2019 and any date prior |
| SpartanNash Distribution | FRUIT PARTY PLATTER | 884853631013 | 64 oz. | Open Acres | SN01 | MI, IN, IL | 4/18/2019 and any date prior |
| SpartanNash Distribution | WATERMELON SPEAR | 884853631068 | 16 oz. | Open Acres | SN01 | MI, IN, IL | 4/18/2019 and any date prior |
| SpartanNash Distribution | WATERMELON SPEAR | 884853630672 | 28 oz. | Open Acres | SN01 | MI, IN, IL | 4/18/2019 and any date prior |
| SpartanNash Distribution | FRUIT BOWL | 884853631235 | 64 oz. | Open Acres | SN01 | MI, IN, IL | 4/18/2019 and any date prior |
| Target | FRUIT BURST | 826766951796 | 50 oz. | Garden Highway Label | GHMW | IL | 4/18/2019 and any date prior |
| Target | WATERMELON CHUNK | 826766951031 | 9.5 oz. | Garden Highway Label | GHMW | IL | 4/19/2019 and any date prior |
| Target | FRUIT SNACK TRAY | 826766951789 | 32 oz. | Garden Highway Label | GHMW | IL | 4/19/2019 and any date prior |
| Target | CANTALOUPE CHUNK | 826766951048 | 10 oz. | Garden Highway Label | GHMW | IL | 4/19/2019 and any date prior |
| Target | MELON MIX | 826766950898 | 20 oz. | Garden Highway Label | GHMW | IL | 4/19/2019 and any date prior |
| Target | FRUIT BURST | 826766951079 | 10 oz. | Garden Highway Label | GHMW | IL | 4/18/2019 and any date prior |
| Target | CANTALOUPE SPEAR | 826766951109 | 16 oz. | Garden Highway Label | GHMW | IL | 4/19/2019 and any date prior |
| Target | WATERMELON SPEAR | 826766951093 | 16 oz. | Garden Highway Label | GHMW | IL | 4/19/2019 and any date prior |
| Target | CANTALOUPE CHUNK | 826766951758 | 20 oz. | Garden Highway Label | GHMW | IL | 4/19/2019 and any date prior |
| Trader Joes | CANTALOUPE SLICE | 95266 | 16 oz. | Trader Joes | P-003 | IA, IL, IN, KS, KY, MI, MN, MO, NE, OH, WI | 4/19/2019 and any date prior |
| Walmart | CANTALOUPE SPEAR | 681131180146 | 10 oz. | Freshness Guaranteed | GHMW | IA, IL, IN, MO, OH, MI | 4/19/2019 and any date prior |
| Walmart | SEASONAL TRIO | 681131180696 | 32 oz. | Freshness Guaranteed | GHMW | IA, IL, IN, MO, OH, MI | 4/19/2019 and any date prior |
| Walmart | WATERMELON SPEAR | 681131180689 | 32 oz. | Freshness Guaranteed | GHMW | IA, IL, IN, MO, OH, MI | 4/19/2019 and any date prior |
| Walmart | SEASONAL BLEND | 681131180481 | 10 oz. | Freshness Guaranteed | GHMW | IA, IL, IN, MO, OH, MI | 4/19/2019 and any date prior |
| Walmart | SEASONAL BLEND | 681131180498 | 16 oz. | Freshness Guaranteed | GHMW | IA, IL, IN, MO, OH, MI | 4/19/2019 and any date prior |
| Walmart | WATERMELON SPEAR | 681131180672 | 10 oz. | Freshness Guaranteed | GHMW | IA, IL, IN, MO, OH, MI | 4/19/2019 and any date prior |
| Walmart | WATERMELON SPEAR | 681131180665 | 16 oz. | Freshness Guaranteed | GHMW | IA, IL, IN, MO, OH, MI | 4/19/2019 and any date prior |
| Walmart | FRUIT BOWL | 681131180238 | 40 oz. | Freshness Guaranteed | GHMW | IA, IL, IN, MO, OH, MI | 4/19/2019 and any date prior |
| Walmart | CANTALOUPE SPEAR | 681131180153 | 16 oz. | Freshness Guaranteed | GHMW | IA, IL, IN, MO, OH, MI | 4/19/2019 and any date prior |
| Walmart | WATERMELON CHUNK | 681131180658 | 40 oz. | Freshness Guaranteed | GHMW | IA, IL, IN, MO, OH, MI | 4/19/2019 and any date prior |
| Walmart | SEASONAL BLEND | 681131180504 | 32 oz. | Freshness Guaranteed | GHMW | IA, IL, IN, MO, OH, MI | 4/19/2019 and any date prior |
| Walmart | FRUIT TRAY | 681131180207 | 48 oz. | Freshness Guaranteed | GHMW | IA, IL, IN, MO, OH, MI | 4/19/2019 and any date prior |
| Amazon/Whole Foods | WATERMELON CHUNKS | 826766810956 | 9.5 oz. | Whole Foods Market Label | GHMW | IL, WI | 4/18/2019 and any date prior |
| Amazon/Whole Foods | CANTALOUPE CHUNKS | 826766811045 | 10 oz. | Whole Foods Market Label | GHMW | IL, WI | 4/18/2019 and any date prior |
| Amazon/Whole Foods | WATERMELON SPEARS | 826766810970 | 16 oz. | Whole Foods Market Label | GHMW | IL, WI | 4/18/2019 and any date prior |
| Amazon/Whole Foods | MELON COMBO | 826766811205 | 20 oz. | Whole Foods Market Label | GHMW | IL, WI | 4/18/2019 and any date prior |
| Amazon/Whole Foods | FRUIT TRAY SMALL | 826766811274 | 36 oz. | Whole Foods Market Label | GHMW | IL, WI | 4/18/2019 and any date prior |