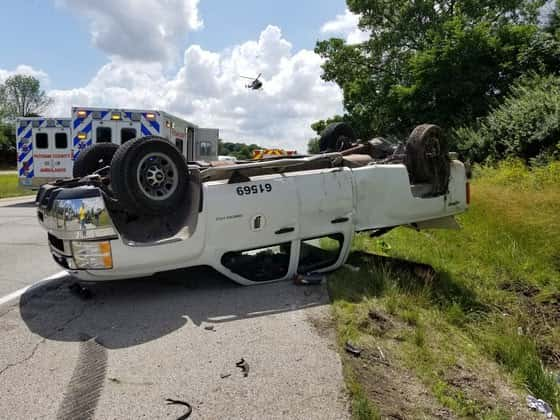 PUTNAM COUINTY, Ind – Tuesday afternoon (6/18/19) just before 3:00 p.m. four INDOT were stuck by a vehicle driving along the emergency lane on Interstate 70 westbound near the 48.5-mile marker.
Indiana State Police say that the INDOT truck was on the shoulder with its lights on while workers were performing road maintenance in the area.
The driver of the INDOT truck, 39 year old John Sadler, of Reelsville, told officers he could see in his rearview mirror a pickup driven by 40 year old Aaron L. Cass, of Bowling Green drift out of the driving lane and into the emergency lane at a high rate of speed.
Sadler's truck struck the INDOT truck in the rear causing it to roll over on its roof top.
One occupant of the INDOT truck was transported to Methodist Hospital in Indianapolis, and three occupants were taken to Regional Hospital in Terre Haute to be treated for non-life-threatening injuries.
Cass, and a passenger in his vehicle, were taken to Methodist Hospital in Indianapolis by an air ambulance.
Police have not yet been able to speak with Cass about the accident.
Cass received a citation for Unsafe Lane Movement.