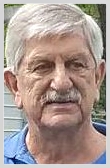 Sonny "Gene" Thompson, 75, of Perrysville, passed away at 1:46 a.m. EDT Sunday, June 23, 2019 at his residence.
He was born July 29, 1943 in Elkhart, Indiana the son of the late Samuel and Gladys (Wysong) Cowell.
He first married Connie Morgan and from this marriage were two children: James (Donna) Conrad of Newport, Indiana and Jami (David) Garver of Lansing, Michigan; He later married Carolyn Howard and from this marriage was one son: Eddie (Gen) Thompson of Perrysville, Indiana; He then married Bertha Sheldon and from this marriage was one daughter: Tracy (Keith) Mitchell of Dickson, Tennessee.
Other survivors include 12 grandchildren; eight great grandsons and two great granddaughters and special brother-in-law: Larry Howard of Newport, Indiana.
Sonny was preceded in death by his grandson: Jonathan Mitchell; brother: James Thompson; sister/brother-in-law: Norma (Walter) Seeland and brother/sister-in-law: Donald (Elizabeth) Thompson.
Sonny retired after 37 1/2 years from HeatCraft in Danville, Illinois. He was a member of the Local 1271. Sonny enjoyed bowling with the Friday Night League at Lincoln Lanes in Danville. He also helped out at Thompson's T-Shirts, loved watching St. Louis Cardinals baseball, wrestling on Monday and Tuesday and Impractical Jokers often. Sonny also enjoyed spending time with his grandchildren and watching his granddaughters dance recitals. The family would like to send out a special "Thank You" to the nurses at V.N.A. Hospice for all they did during Sonny's illness.
Funeral service: 1 p.m. EDT Friday, June 28, 2019 at DeVerter Funeral Home in Cayuga, Indiana; Officiating: Ashton Stewart; Burial: Hicks Cemetery in Perrysville, Indiana; Visitation: 5 to 7 p.m. EDT Thursday, June 27, 2019 at the funeral home. The family requests contribution to the North Vermillion Backpack Program, C/O Cayuga Christian Church, PO Box 731, Cayuga, Indiana 47928-0731. Condolences: www.deverterfuneralhome.com.