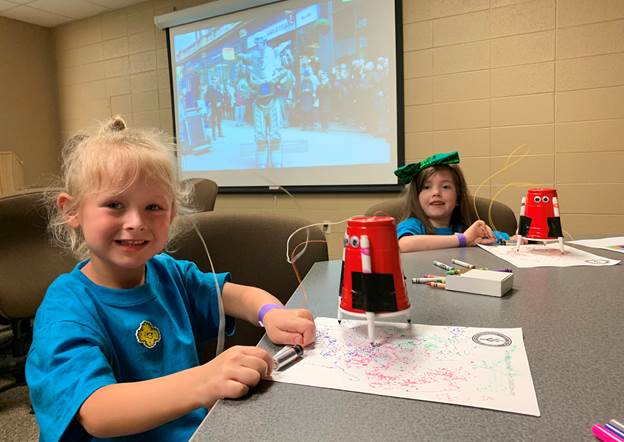 HAUTE, Ind – Nearly 200 pre-kindergarten through 8th grade students in summer camps visited Ivy Tech Community College Terre Haute on Friday, June 28 to experience a college campus and participate in fun, educational activities. Youth from Camp Navigate, Hamilton Center, and Chances and Services for Youth's Camp Rave participated. The camps and Ivy Tech shared a common goal in the day's activities: to help prepare youth for the future.
"The event provided opportunities for youth to have fun on a college campus, but also allowed them to explore careers and think about their futures," said Lea Anne Crooks, chancellor of Ivy Tech Terre Haute. "Ivy Tech participates in youth development activities as part of its dedication to serve community needs and support Indiana's future workforce."
Eleanor Ramseier is co-founder and executive director of Camp Navigate, a nine-week summer day camp.
"Camp Navigate is a summer camp with a purpose," said Ramseier. "Ivy Tech is the perfect community partner! The program they designed perfectly aligns with Camp Navigate's philosophy of learning. It focused on STEAM concepts and creativity."
At Ivy Tech, campers created robot-powered artwork, practiced teamwork through a cup stacking challenge, learned how to detect fingerprints using crime lab technology, and more.
Some Ivy Tech education students also participated in the day's activities, as camp mentors at Camp Navigate.
"Ivy Tech went above and beyond what we expected," said Ramseier. "Activities were structured, yet designed to be fun for all ages. Kids today need and want structure; combining structure and fun in one activity is when they learn the most."
Ivy Tech offers associate degree programs in early childhood education, elementary, and secondary education. Information can be found online at ivytech.edu/terrehaute.
For more information about Camp Navigate, visit campnavigate.org.