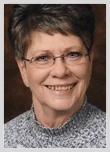 Lynda M. Reed, 76, of rural Covington died at 11:30 P. M. Saturday February 1, 2020 at home having been seriously ill two months. She was born December 20, 1943 at Jackson, TN the daughter of Dalton A. and Ruth I. (Garrett) Lilley.
Lynda was a 1961 graduate of Perrysville High School. She was a resident of rural Covington for fifty-seven years and previously resided in the Coal Branch area.  She was a member of West Liberty Church of Christ and had been the church secretary for the past few years.  She was employed at Coffing Bros. Orchard for thirty-five years before retiring.
Lynda married Larry G, Reed December 22, 1961 at Cayuga, IN. He preceded her in death August 13, 2001.  Surviving are a son Todd Reed & wife Leslie, a daughter Tracy A. McBride, both of Covington; four grandchildren, Ryan McBride & wife Mallory, Kaylyn Applegate, Abby McBride, and Hartlie Reed.  Her parents, husband and two brothers preceded her in death.
Visitation 3:00 to 5:00 P. M. Friday February 7, 2020 at West Liberty Church of Christ.   Memorial services at 5:00 P. M. with Pastor Kurt Flora officiating.  Cremation was chosen with private burial in Lower Mound Cemetery.  Memorials to the West Liberty Church of Christ.  Condolences to the family:  www.shelbyfuneralhome.com