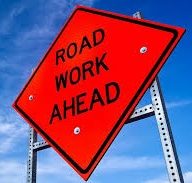 VIGO COUNTY, Ind. – The Indiana Department of Transportation reports that a bridge replacement project on U.S. 41 on the bridges over Lost Creek located just over one mile north of Terre Haute will begin on or after Wednesday, April 15  Motorists will be shifted into one 13 ft. lane in each direction on the southbound bridge while the contractor replaces the northbound bridge.
Milestone Constructors Inc. was awarded this project on U.S. 41 for $3.3 million.  This project will replace and widen both U.S. 41 Bridges over Lost Creek, located between Fort Harrison Rd. and Budd Rd. The project is scheduled for completion in early September.
INDOT reminds motorists to follow the posted work zone speed limit, use caution and consider worker safety when traveling through a construction zone.