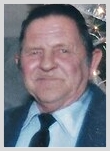 Everett R. (Sonny) Brower, 74, of Blanford, passed away Friday, June 12, 2020 at 8:25 pm at Gibson Family Center Hospice at Union Hospital in Terre Haute with his two nieces, Debbie Sanquenetti and Janice Russell at his bedside.
He was born in Bloomingdale, IN on January 24, 1946, to Roscoe and Jan Brower.
He was a roofer by trade and a member of the International Brotherhood of Painters.  He was a veteran of the US Navy and belonged to the Sons of the American Legion.  He was also a member of the Eagles Lodge.
He was preceded in death by his parents; a brother Paul Brower; two sisters, Patricia Brower and Margaret McGlynn; and a nephew, Baker Sanquenetti.
Survivors include:  a daughter, Patricia Brower of California; a sister, Sue Sanquenetti of Clinton and several nieces, nephews, and grandchildren
Cremation was chosen.
There is no visitation nor services scheduled; however a Celebration of Life will be held at a later date.
Frist Funeral Home was entrusted with the care and arrangements.
Online condolences may be made to www.fristfuneralhome.com.