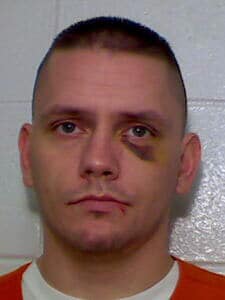 PUTNAMVILLE, Ind — An offender who walked away from the Putnamville Correctional Facility is back in custody.
34-year-old Christopher Davis was in custody as of shortly after 8:00 p.m. Friday.
The Scottsburg man was found on County Road 25 East, south of County Road 700 South.
Davis was working outside the facility early Friday afternoon, which he was authorized to do, when he escaped around 1 p.m.
He was serving a two-year sentence for burglary and would have been eligible for release as early as March 2021.
_______________________________________________________________
PUTNAMVILLE, Ind – Police look for escaped inmate.
Authorities say that Christopher David walked away from the Putnamville Correctional facility Friday.
State Police say that David was last seen wearing all yellow.
He is described as a white male, approximately 5"10 160 pounds with brown hair and brown eyes.
David is from Scottsburg Indiana and was last known to be reveling south east from the Putnamville correctional facility towards I70.
If you know where David might be, contact police.