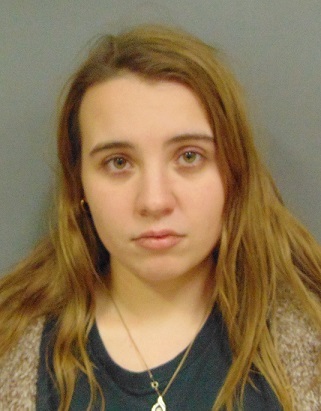 VERMILLION COUNTY, Ind – Vermillion County Deputies were called out just before 11::00 p.m. Wednesday night to County Road 350 east near 1700 south after receiving a 911 call about a vehicle that had run off the road through a fence containing livestock.
Deputies found the car in a pasture when they arrived. They say that the vehicle the car had left the roadway struck a fence post, continued through the yard of the residence and ran through a fence. The vehicle traveled through the pasture for several yards, dragging the fencing with it.
The driver, 21 year old Hanna Evans of Clinton told officers she had hydroplaned prior to leaving the roadway.
Evans failed field sobriety testing and was transported to Union Hospital in Clinton for alcohol and drug testing.  While at the hospital, Evans attempted to tamper with her urine sample.
The results of the testing showed Evans blood alcohol was .07 BAC
The urinalysis tested positive for Cannabinoid an Benzodiazepines
Evans was booked into the Vermillion County Jail on charges of:
Operating a motor vehicle with a schedule 1 or 2 substance (C Misdemeanor)
Operating a motor vehicle while intoxicated endangering a person (A Misdemeanor)
Operating a motor vehicle while intoxicated with a prior conviction (lvl 6 felony)
Obstruction of Justice (lvl 6 felony)
Driving while suspended with prior conviction (A misdemeanor)
Failure to report an accident (B misdemeanor)
Disorderly conduct (B misdemeanor)
Evans was also issued a citation for operating a vehicle without financial responsibility.
Evans is currently being held with a bond of $10,000 (10% allowed).