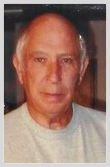 David L. Vorek, 87, of Terre Haute and formerly of Clinton, passed away at Westminster Village in Terre Haute on Sunday, March 14, 2021.
He was born October 16, 1933, to John and Janet Lindsay Vorek and they preceded him in death.
He was a U S Marine veteran during the Korean War era.  He was retired from the American Water Company and was a member of the Plumbers and Steamfitters Union #157.  He loved fishing and fish fries and was a former member of the Isaac Walton League and the Blanford Sportsman's Club.  He was a graduate of Clinton High School.
In addition to being preceded in death by his parents, he was also preceded in death by his brother, Ron Vorek.
David is survived by his daughters, Cynthia (Dennis) Shibley of VA and Lori (Tom) Barnett of Terre Haute; 1 sister, Vickie (Edward) Decker of West Terre Haute; 5 grandchildren; 6 great-grandchildren; and several nieces and nephews.
Graveside services will be held on Saturday, March 20, 2021 at 4 pm with military honors performed at Walnut Grove Cemetery.  Pastor Tom Barnett will officiate at the funeral service following the military rites.  A visitation will be held following the graveside service at the Clinton First United Methodist Church .
In lieu of flowers, the family requests that memorial donations may be made to the Isaac Walton League or the Blanford Sportsman's Club in memory of David Vorek.
Online condolences may be shared at www.fristfuneralhome.com.