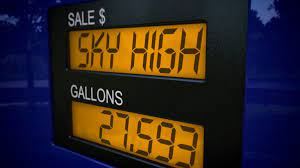 Statewide – On Tuesday, the average price for a gallon of unleaded in Indiana had reached the $5.15 mark and it has climbed even higher as of Wed. morning.

According to AAA, the average price statewide is now 5.23. That's up 46 cents from last week and is 28 cents higher than the national average.

Gas Buddy's heat map shows gas in Vigo and Sullivan Counties slightly below the state average; as of Wednesday morning, an gallon of regular unleaded in Vigo County will set you back $5.20.