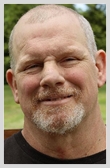 Covington, Ind. – Michael R. "Mikie" Cutrell, 51, died of cancer on June 16, 2022 surrounded by his beloved family at the home of his In-Laws in Rockville, Indiana.
Michael grew up in Newport, Indiana, and moved to Covington where he raised his children. He was a 1990 graduate of North Vermillion Jr./Sr. High School. He worked for the Indiana State Highway Department. If you dislike driving through construction, you probably hurled a few expletives in his direction.
Michael was the father of 4 children and loved nothing more than supporting them in all of their activities. From Book-It to the ballfield, Michael was there cheering for them. Michael and his wife were once high school sweethearts, who went their separate ways. They found each other again many years later, and Michael spent the last few months of his life loving hard and being loved in return. Michael was excited to add to his family and was happy to be called "Papaw."
One of Michael's favorite activities was watching the St. Louis Cardinals. Whether in person or with his devoted dog on the couch, he was always cheering for them…and sometime hurling an expletive of his own if they were losing to the Cubs!
Michael is survived by his loving wife, Melissa; amazing children, Sady, Peyton, Mcgwire, and Brady; Melissa's wonderful children, Bryce Sr. (Victoria) Floyd and Tyler Floyd; grandchildren, Bryce Jr., Daniel, and Khloe Floyd; mother, Brenda (John) Alters; grandmother, Betty Weaver; sister, Mia (Jacob) Schmidt and nibling, Ollie Schmidt. He is also survived by the mother of his children, Crystal (Chris Lacombe) Cutrell; his beloved dog, Lily; special In-Laws, family, and friends too numerous to name.
He was preceded in death by his father, Michael E. Cutrell.
Funeral services: 6 p.m. EDT Monday, June 20, 2022 at DeVerter Funeral Home in Cayuga, Indiana; Officiating: Pastor John Hawkins; Visitation: 3 p.m. EDT until time of services. Cremation will be accorded following services with inurnment to be held at a later date at Thomas Cemetery, Newport, Indiana. Michael loved baseball, especially the St. Louis Cardinals. The family requests that you wear your favorite team jersey to say goodbye. Bonus points if your favorite team matches Michael's. Contributions may be made to the American Cancer Society. Condolences: www.deverterfuneralhome.com.