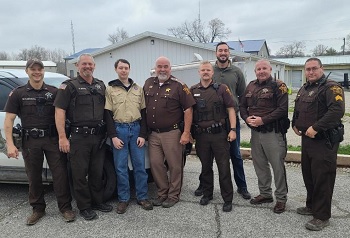 BRAZIL, IND. (July 20, 2022) An Owen County teen is building a climbing wall at the nearby Indiana Sheriffs' Youth Ranch in hopes of earning his Eagle Scout badge, the highest honor a youth can earn from Scouts BSA.
Joshua Gephart II, 17, son of Joshua and Brittany Gephart of Freedom, Ind., began designing his project early this spring with the support of Owen County Sheriff Sam Hobbs.
Joshua's climbing wall will be the most prominent feature of our youth confidence course,Hobbs said. He has thoroughly researched plans, materials and costs and received the approval of needed Scouting officials. Joshua's Eagle Scout project is designed for strength, durability and safety. It will offer climbing patterns for beginner, intermediate and advanced climbers. Kids of all ages will enjoy and gain confidence from Joshua's project for years to come.
As an Eagle Scout candidate, Gephart II has already distinguished himself among the very top youth leaders in our nation, said Jeffrey Myers, Scoutmaster of Troop 95 in Brazil. Eagle Scouts represent the upper percentile of scouts and count U.S. astronauts and U.S. presidents among their ranks.
To complete his years in Boy Scouts, Gephart II said he wanted a project that could help as many people from as many areas as possible. Building the climbing wall at the Indiana Sheriffs' Youth Ranch will help future law enforcement officers, at-risk kids, young witnesses and victims of crime from not only Owen County, but young people across Indiana, Gephart II said.
Balance beams, tire runs, rope challenges and water obstacles will also be part of the confidence course, Gephart II said. "My team and I plan to create the tire run after building the climbing wall."
ISYR is a nonprofit 62-acre training retreat under development near Brazil, Ind., in Clay County. Gephart II is the fourth Eagle Scout candidate to partner with ISYR to build projects and earn their top and final BSA honor.
For more information about joining Scouts BSA go to www.Scouting.org. To make a tax-deductible donation to help fund the climbing wall and confidence course at the Indiana Sheriffs' Youth Ranch call 317-460-4242 or write to ISYR, 5325 N. State Road 59, Brazil, IN 47834.