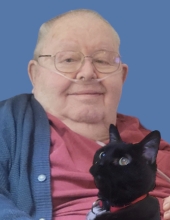 OMAHA- Robert "Bob"Yater, 83 of Omaha, Nebraska went to be with the Lord on Wednesday, March 22, 2023. He was originally from Tangier, Indiana. Bob was a farmer, wood worker and an avid sports fan.
He is survived by his loving wife of 64 years, Gilberta Yater; two daughters, Donna and Greg Gilpin of Liberty, Kentucky and Deb Hedrick (Dewayne Belongia) of Omaha, Nebraska;one son, Timothy Yater of Washougal, Washington; seven grandchildren, 16 great- grandchildren and his beloved cat and companion Missy. He is also survived by his stepmother, RuthAnn Yater; 3 half siblings, J.B and Joyce Yater, Terri Blankenbeckler, and Nancy and Joe Shoemaker all of Indiana.
He is preceded in death by his parents, James Carroll Yater and Betty J. Eades ; two stepfathers, Eugene McMasters and Arnet Eades, one son, Bradley E. Yater and one grandson, Dennis McQueary.
Memorial Service will be 12:00 p.m. Friday, March 31 at Tangier Friends Church in Tangier, with Tom Norris officiating. Inurnment will follow in Tangier Cemetery. Memorial Visitation will be 11am-12noon Friday, March 31 at Tangier Friends Church. Arrangements entrusted to the care of Gooch Funeral Home of Rockville. Online condolences may be shared at www.goochfuneralhome.com.