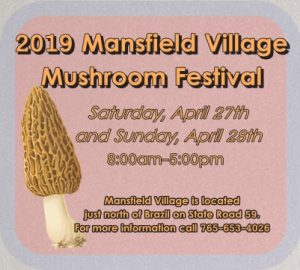 You're invited to the 2019 Mansfield Village Mushroom Festival on Saturday, April 27th and Sunday, April 28th.
Join the celebration of the spring arrival of the elusive morel mushroom.
The two-day annual event runs from 8am-5pm both days.
There will be a huge mushroom auction at the red barn both days, the biggest mushroom contest,
classic car show with free music all day Sunday in the Pavillion, plus delicious food vendors & craft vendors too.
Mansfield Village is located just north of Brazil on State Road 59.
For more information call 765-653-4026.