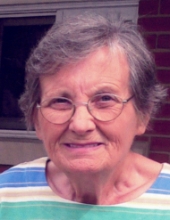 Dana- Wanda Lee Stewart, 92, of Dana, Indiana passed away Saturday, March 4, 2023 at Union Hospital in Terre Haute. She retired from the United States Postal Service with over 25 years of service and worked at the Dana Library for many years. She was born January 7, 1931 to the late Franklin Green and Gladys Hutson Green.
Her husband of 54 years, Roy "Bus" Stewart whom she married September 3, 1954 in St. Bernice, Indiana passed away December 13, 2008.
Survivors include one son, Bruce(Lesley) Stewart of Dana; one daughter, Patricia Miller of Belleview, Florida; seven grandchildren, Brittanya Botner, Brandon Stewart, Brandi Mahan, Isaiah Stewart, Michael Miller, Sara Miller and Shawn Miller; 14 great grandchildren and several nieces and nephews. She was preceded in death by one brother, Robert Green.
She was graduate of Dana High School, a member of the Dana Community Bible Church, and a member of the Coffee Club at Off the Tracks Café in Dana. She was Queen of the Dana Fall Festival. She loved cooking, crochet, cross stitching and making Afghan's and Doilies for her family.
Services will be 2:00 p.m. Thursday, March 9, at Dana Community Bible Church, Rev. Marvin Miller officiating Burial will follow at Bono Cemetery. Visitation is from 12 noon to 2:00 p.m.
Arrangements entrusted to the care of Gooch Funeral Rockville.
Online condolences may be shared at www.goochfuneralhome.com.
To send flowers to the family of Wanda, please visit our floral store.