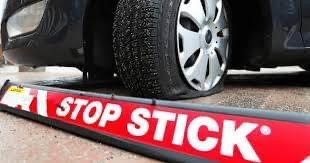 PIKE COUNTY — Last night Pike County Sheriff's Deputy Bryce Manning was on routine patrol when he observed a silver passenger car pull off Lakeview Drive in Petersburg and accelerate abnormally onto State Road 57. Deputy Manning was able to use his in-car radar and confirm that the vehicle had accelerated to 90mph in a 50mph zone near State Road 57 and Lake Minnis Drive. Deputy Manning observed the vehicle drive left of center almost losing control. Deputy Manning activated his emergency lights and siren to initiate a traffic stop. The vehicle began to pull over to the side of the road and then accelerated away from Deputy Manning. Deputy Manning advised dispatch that he would be in pursuit of the vehicle North on State Road 57.
The vehicle continued north on State Road 57 reaching speeds of approximately 100mph. The vehicle turned left onto CR 300S in Daviess County. CR 300S was a dead end and the pursuit turned back East on CR 300S.
Chief Deputy Dallas Killian was able to place "Stop Sticks" at CR 300S and State Road 57. The Stop Sticks were successful and began deflating the car's tires, slowing the pursuit from speeds of 100mph down to below 60mph.
The pursuit continued into Washington onto Troy Road. The suspect vehicle collided with two Pike County Sheriff's Office patrol vehicles and came to a stop near the Troy Road and Highland Avenue intersection. The suspect then exited the vehicle and began to run on foot.
The suspect ran approximately 200 yards and was taken to the ground and placed in handcuffs without further incident. The suspect was taken to the hospital for medical clearance.
The suspect was intoxicated to nearly twice the legal limit and was driving on a suspended license. The suspect was charged with Reckless driving, OVWI, Resisting Law Enforcement and possession of marijuana. The Pike County Sheriff's Office would like to thank Washington City Police Department, Daviess County Sheriff's Office, Petersburg City Police and the Indiana State Police for assisting them in the pursuit. It is also important to mention that Pike County Dispatch and the other dispatch centers play a huge role in the successful and safe ending to these pursuits, organizing efforts on the ground and relaying the information that they are hearing or seeing on GPS to the other agencies.
The identity of the suspect was not mentioned in this report from the Washingto Police Department.